Selected approaches to environmental ethics in V4 countries
Słowa kluczowe:
etyka, etyka ekologiczna, wartości idealne, natura
Streszczenie
Many contemporary authors suggested that the ecological crisis is a crisis of values, precisely for that reason it is necessary to pay attention to the  development of debate on environmental ethics. Environmental education and environmental research currently focuses often on the field of knowledge of natural sciences, but necessary to enrich it also in an ethical dimension, that is precisely the view of environmental ethics.  Environmental ethics we might characterize as a field of practical ethics that deals with ethical relationship of human (especially as a moral agent) to nonhuman natural entities (for example, to other living beings, species, ecosystems, biotic communities, etc.) and tries to critically reflect the ecological crisis from philosophical and ethical point of view. The aim of the proceedings is to provide an overview of ideas and opinions of experts from V4 countries on contemporary issues of environmental ethics. The V4 countries share a similar socialist past, which has an impact on the perceived value of environment that is still underestimated by many and seen as a mere source of raw materials. The proceedings is trying to search interdisciplinary approach of experts dealing with environmental ethic and thus contribute to mutual enrichment and a new perspective on this area.
Rozdziały
WHAT DO WE MEAN BY RESPECT IN ENVIRONMENTAL ETHICS?

MODERNITY AND THE BEGINNINGS OF ECOLOGICAL THINKING

DEVELOPMENT OF POSITIVE ATTITUDES TO ANIMALS AND BARRIERS OF ETHICAL CONSUMPTION

IDEAL VALUES OF NATURE. PHILOSOPHICAL PERSPECTIVE
Bibliografia
Baďurová, B., SZÁNTÓ, V., VANDROVCOVÁ, T., WRÓBLEWSKI, Z. (eds.). (2016). Environmentálna etika v krajinách V4 (Environmental ethics in V4 countries). B. Bystrica: Belianum.
Binka, B. (2008). Environmentální etika. Brno: Masarykova Univerzita.
Bonenberg, M. (1992). Etyka środowiskowa. Kraków: Uniwersytet Jagielloński.
Brennan, A. and LO, Y. S. (2008). Environmental Ethics. In Stanford Encyclopedia of Philosophy. Retrieved from http://plato.stanford.edu/entries/ethics-environmental/#TraEthTheConEnvEth.
Carter, F. and Turnock, D. (2002). Environmental problems in East – Central Europe. New York: Routledge.
Dubnička, I. (2007). Kultúra a environmentálna kríza. Nitra: UKF v Nitre.
Gere, T. (2008). Állatjólét és etika. Animal welfare, etológia és tartástechnológia, 4(1), 59–69.
Kánský, J. (1995). Etika vztahu ke zvířatům. Filozofia, 50(5), 274–283.
Klimková, A. (2014). Beyond the human world, the unseen animal. In QUAERE 2014: recenzovaný sborník příspěvků interdisciplinární mezinárodní vědecké konference doktorandů a odborných asistentů (pp. 1082–1087). Hradec Králové: MAGNANIMITAS.
Klimková, A. (2015). Prípadovosť – komunikácia – ekologická etika. Košice: UPJŠ.
Kohák, E. (1998). Zelená svatozář. Praha: Sociologické nakladatelství.
Kolářský, R. and SUŠA, O. (1998). Filosofie a současná ekologická krize. Praha: Filosofia.
Kovács, J. (2008). Környezeti etika. VILÁGOSSÁG, 9–10.
Krchnák, P. (2016). O probléme vzťahu človeka k zvieratám. In Baďurová, B., Szántó, V., Vandrovcová, T., Wróblewski, Z. (eds.), Environmentálna etika v krajinách V4 (Environmental ethics in V4 countries) (pp. 8–14). B. Bystrica: Belianum.
Lányi, A. (2007). A fenntartható társadalom (Sustainable society). Budapest: L'Harmattan Kiadó.
Lányi, A. (1999). Együttéléstan: a humánökológia a politikai filozófiában (Coexistology: Human ecology in political philosophy). Budapest: Liget Műhely Alapítvány.
Lányi, A. (2009). Porcelán az elefántboltban: az ökológiai politika kezdetei Magyarországon (Beginnings of ecological politics in Hungary). Budapest: Heti Válasz Kiadó.
Lányi, A. and FARKAS, G. (eds.). (2010). Miért fenntarthatatlan, ami fenntartható? (Why is the sustainable unsustainable?). Budapest: L'Harmattan Kiadó.
Lányi, A. (2015). Oidipusz avagy a Természetes ember (Oedipus, or the Natural Man). Budapest: Liget Műhely Alapítvány.
Librová, H. (1994). Pestří a zelení. Kapitoly o dobrovolné skromnosti. Brno: Hnutí Duha a Veronica.
Librová, H. (1999). The Disparate Roots of Voluntary Modesty. Environmental values, 3, 369–379.
Martinkovičová, M. (1999). Ekofilozofia. B. Bystrica: UMB.
Minárová, A. (2004). Vybrané kapitoly z environmentálnej etiky a bioetiky. Nitra: UKF, 2004.
Palovičová, Z. (1996). Problém hodnôt v environmentálnej etike. Filozofia, 51(2), 91–97.
Palovičová, Z. (2012). Kapitoly z aplikovanej etiky IV. Úvod do environmentálnej etiky. Trnava: UCM.
Papuziński, A. (1999). Wprowadzenie do filozoficznych problemów ekologii. Bydgoszcz: WUESP.
Piątek, Z. (2008). Ekofilozofia. Kraków: Uniwersytet Jagielloński.
Rozemberg, A. (2015). Astronautka Astrid a jej úbohá mačka. Towarzystwo Słowaków w Polsce.
Skolimowski, H. (1992). Living Philosophy: Eco-Philosophy as a Tree of Life. Penguin Books.
Skýbová, M. (2011). Etika a příroda. Červený Kostelec: Pavel Mervart.
Ślipko, T. (1994). Prawo naturalne jako podstawa szacunku człowieka dla życia i przyrody. Ethos, 25/26, 88–101.
Ślipko, T. (1997). Czym są i gdzie bytują obiektywne wartości moralne. Etyka, 30, 107–112.
Smolková, E. (1996). Hodnotová dimenzia životného prostredia – šanca na prežitie. Filozofia, 51(2), 98–105.
Smolková, E. (2000). Ekologický problem ako šanca. Bratislava: Iris.
Šmajs, J. (2011). Ohrožená kultura. Od evoluční ontologie k ekologické politice. Praha: Host.
Štekauerová, Ľ. (1999). Filozofia techniky & pokus o hodnotovú reflexiu techniky. Prešov: Slovacontact.
Tóth, I. J.(2013). Fejezetek a környezetfilozófiából. Szerzők és irányzatok. Szeged: JATE-Press.
Tóth, Z. J. (2012). Animal protection and animal 'rights' in Hungary. Jogelméleti Szemle, 4, 166–175.
Vavroušek, J. (1994). Hledání lidských hodnot slučitelných s trvale udržitelným způsobem života. Životné prostredie, 28(6), 288–291.
Vladyková, Ľ. (2009). Morálno-filozofické implikácie netradičných ekologických vied v ekofilozofickom diskurze. Košice: UPJŠ.
Zarosa, U. (2016). Status moralny zwierząt. Warszawa: Wydawnictwo Naukowe PWN.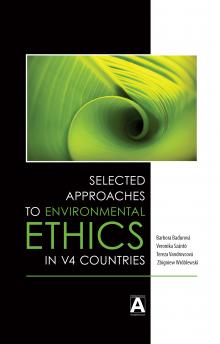 Prawa autorskie (c) 2017 Wydawnictwo Academicon
Licencja
Utwór dostępny jest na licencji Creative Commons Uznanie autorstwa – Na tych samych warunkach 4.0 Miedzynarodowe.